1766
- Search warrant 1 June 2007 for Quinta Salsalito, Estrada Nacional 537 (Estrada da Luz - Burgau), rooms, annexes and immediate spaces
1767 - Copy of page 1766
Processos Vol VII Page 1766
TRANSLATION BY INES
Case 201/07 GALGS
Reference number 3222992
Portimao Family Court

SEARCH WARRANT

Dra Silvia María Goncalves Freitas Bidarra, Criminal Instruction Judge from the Portimao Court:

ORDERS that according to the terms of articles 174 nº1, nº 2, nº3, 177 n|1, 268 n1 and 269 nº 1 a) nº2 of the Penal Process Code a SEARCH will be made, without the presence of the criminal instruction judge, of the installations identified below, whilst observing the legal formalities foreseen in article 176 of the Penal Code, FOR THE EFFECTIVE APPREHENSION of all elements that could clarify the investigation and process instruction, according to the terms of article 178 of the same code.

Before proceeding to effect the search, copy of the dispatch attached determining who had access to the site, mentioning that they can be present during the search and be accompanied or substitutes by someone of confidence will be delivered. If the persons in reference are not present, copy of the dispatch can be delivered where possible to a family member, neighbour, caretaker or whoever acts as substitute. Whoever has access to the site should be informed that they have the right to be present at the diligence and to be accompanied or replaced by a person of their confidence who should present themselves without delay.

The person referred to in this previous paragraph should be given a copy of this dispatch.

The formalities and limitations contained in articles 176 and 177 of the CPP should be observed.

Validity: 30 days and within the hours between 07.00 and 21.00.

All information will be included in the process files.

Place of Diligence: Quinta Salsalito, Estrada Nacional 537 (Estrada da Luz – Burgau) respective rooms annexes and surrounding areas.

Portimao 1st June 2007

Signed
The Instruction Judge
1768 to 1769
- Results of searches of Salsalito grounds on 21 June 2007: nothing was found to be seized
Processos Vol VII Pages 1768 to 1769

SEARCH REPORT

Date: 2007-06-21

Place: Quinta Salsalito, Sitio Alagoas, EN 537 – Estrada Luz – Burgau, 8600-146, tel*****

Executing officers: Chief Inspectors Tavares de Almeida, Vitor Matos, Inspectors Ma José Brigantim and Raquel Neves.

Person searched: Sally Anne Eveleigh, UK passport, British nationality (understands Portuguese perfectly).

Sally Anne Eveleigh gave express consent for the search according to the terms of articles 174 nº4 of the CPP and signs to this effect.

The legal formalities observed, the search is begun with the presence of Sally Anne Eveleigh.

Time of initiation: 07.00

Gave the following result (detailed description of the number and quantity of papers or objects detected and exact location of where they were found, statement of apprehension and indication of how they were collected.)

The diligence began at 07.00 – the entire area surrounding the residence was searched in detail with the support of the GNR dog team.

The surrounding area, covered with secondary vegetation of medium height and composed of:

Entrance – dirt track of approximately 100 metres length leading to the first building which is a carpentry office and other support services for the Quinta.
To the left, alongside the carpentry office, a garden area with palm trees, 3 three large amphora, a structure for pool maintenance, containing about 800 metres of dark plastic tubing covered by an aluminium and glass structure.
Further to the left wire fencing leading from the swimming pool machinery, swimming pool and support areas (next to the residence, from which it could be accessed).
At the far end, to the left it has a support kitchen for the rooms, an esplanade and a WC.
Beyond the carpentry office there is a parking space where, at the time of the initiation of the search, 5 vehicles were found and a motorbike (dark coloured VW Golf 03-DB-47 – White Land Rover Defender 71-88-JN – Dark red Fiat Punto 45-49-ER – Dark blue Opel Corsa 18-53-JR – Grey VW Polo 81-CM-80- black Gilera motorbike 1-LGS-5989). Beyond the parking space there is an ample area composed of waste ground which has five large amphora, various construction materials, an unused stove (next to which were parked two Renault Express vehicles, white, 59-95-FC and 28-01-HT) and a wooden fence giving access to a small wooden house where an employee, J*** P*** L*** M**** lives. In the waste ground area were several embarkations in a bad state of conservation, including a semi rigid boat with a motor, kayaks, canoes and pedalos. At the end to the left there is a well with water, a support house with machinery, a shed with gardening materials.

In spite of a detailed search being made, with the support of the dogs, nothing was found for apprehension.

End of diligence: 09.30

Signed.
1773 to 1783
- Photographic report from the Technical Police regarding search of the Eveleigh property 21 June 2007
Processos Vol VII Pages 1773 – 1783
Photographic Report
Technical Police Nucleus


Date 21st June 2007

Report Number 376-07

Place: Alagoas – Burgau – Vila do Bispo

Assistant Specialist: Pedro Vilhena
Page 1774 Photographic Report N| 376-07 of 21st June 2007
Quinta Salsalito, Alagoas – Burgau – Vila do Bispo
Photo 1: Satellite Photo showing the area of Quinta Salsalito in yellow.
Photo 2: Aerial photo of Quinta do Salsalito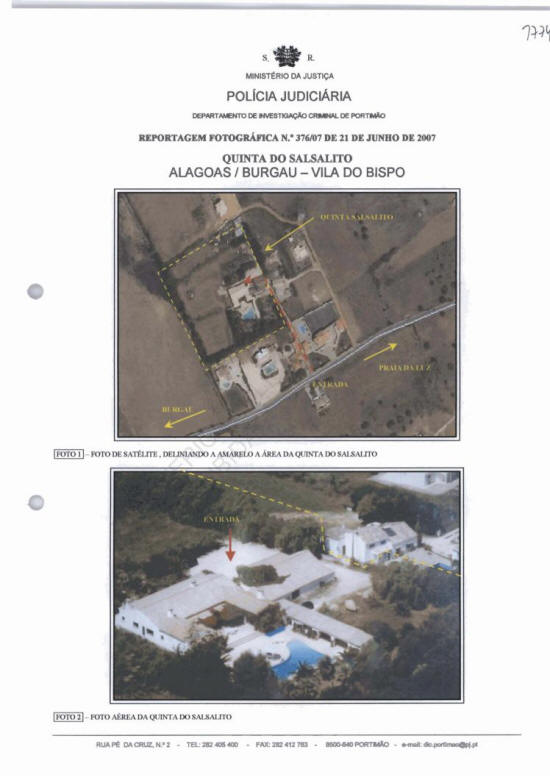 Page 1775
Photo 3: Entrance to Quinta Salsalito
Photo 4: Interior of the property.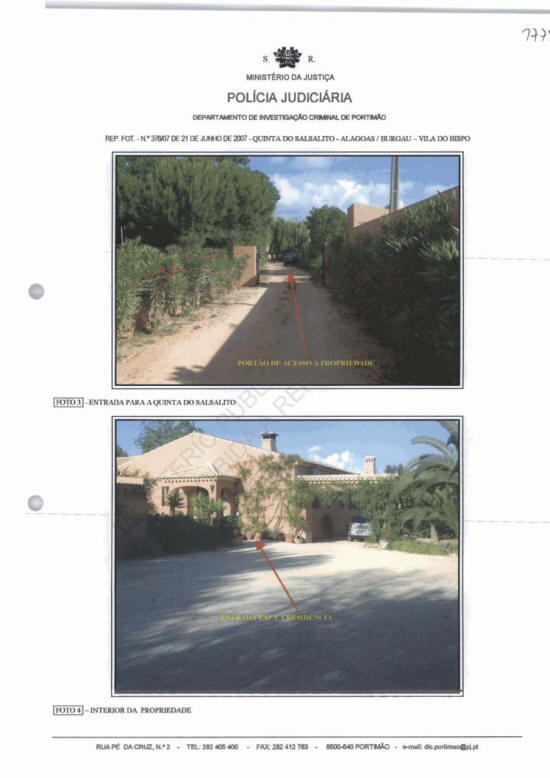 Page 1776
Photo 5: Entrance, main corridor, with guest rooms to the right.
Photo 6: Opposite perspective of photo 5.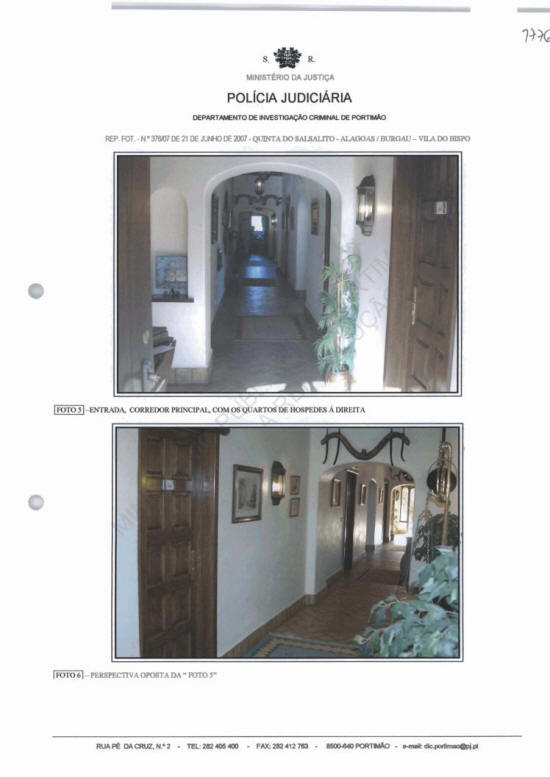 Page 1777
Photo 7: Main living room
Photo 8: Swimming pool area.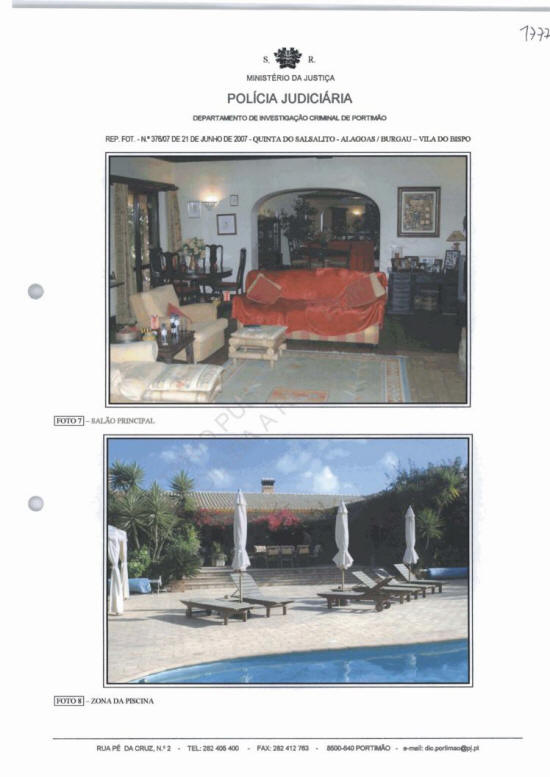 Page 1778
Photo 9: Neighbouring terrain.
Photo 10: Idem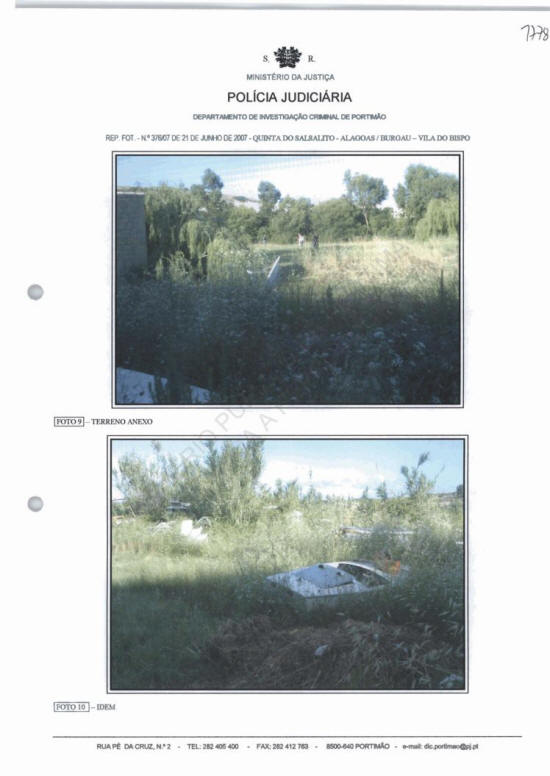 Page 1779
Photo 11: Neighbouring terrain, well house.
Photo 12: Idem.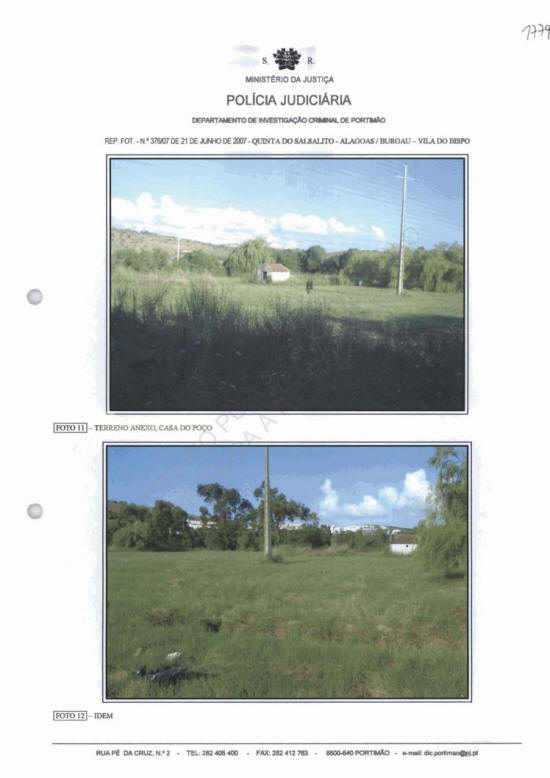 Page 1780
Photo 13: Well house/residence
Photo 14: Detail well house.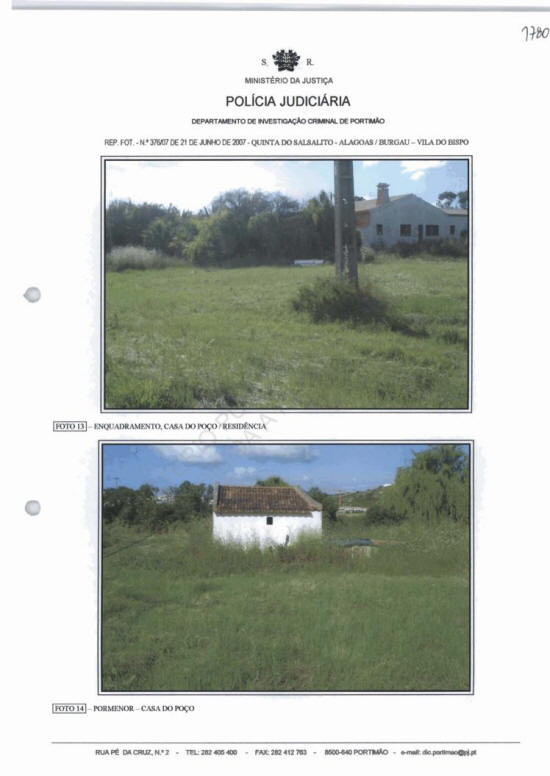 Page 1781
Photo 15: Detail – well.
Photo 16: Perspective.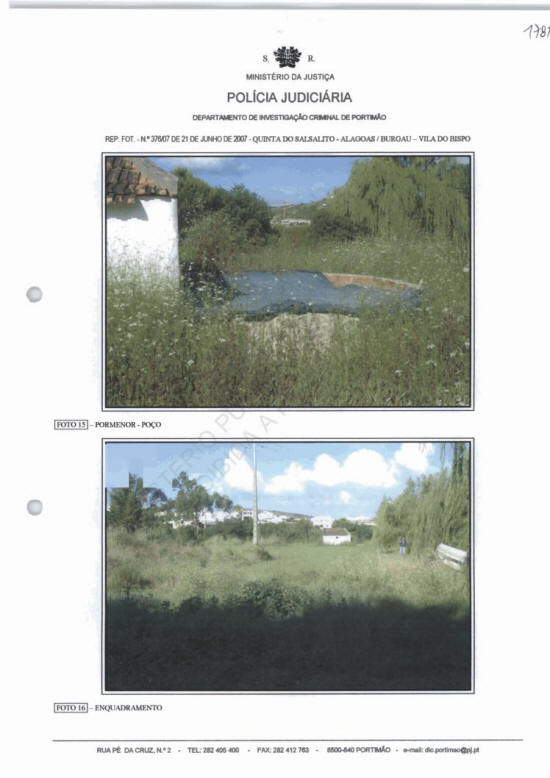 Page 1782
Photo 17: Perspective, veering towards the right.
Photo 18: Idem.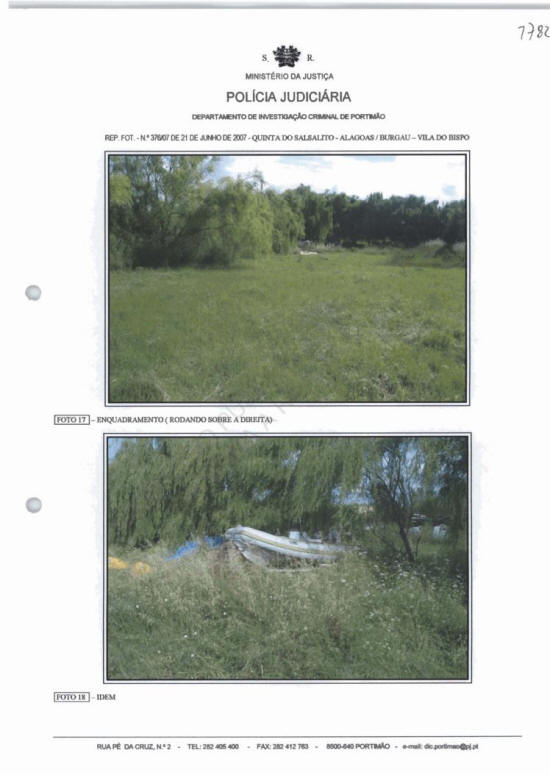 Page 1783
Photo 19: Perspective, veering towards the right.
Photo 20: Idem.